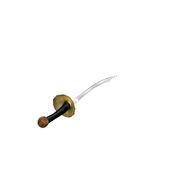 Deadbeard's sword is a famous cutlass of which is only used by Deadbeard. The weapon is said to have been created on Volcano Island, an island now submerged and taken away from the map. The sword is known to kill very quickly and has a great design. It is used with the power to sail a ship without steering it, strike lightning on foes, and cast out ghost on enemies. 
Ad blocker interference detected!
Wikia is a free-to-use site that makes money from advertising. We have a modified experience for viewers using ad blockers

Wikia is not accessible if you've made further modifications. Remove the custom ad blocker rule(s) and the page will load as expected.